SanDisk Ultra Dual 32GB USB 3.0 OTG Pen Drive
The SanDisk Ultra Dual Drive m3.0 makes it easy to transfer content from your phone to your computer. With a micro-USB connector on one end and a USB 3.0 connector on the other, the drive lets you move content easily between your devices-from your Android smartphone or tablet to your laptop, PC or Mac Computer. The USB 3.0 connector is high-performance and backward-compatible with USB 2.0 ports. The SanDisk Memory Zone app for Android (available on Google Play) helps you manage your device's memory.
Compact and stylish, the SanDisk Ultra Dual 32 GB OTG Drive makes transferring data and files as easy as pie. With one micro-USB and USB 3.0 connectors and an easy retractable design, this OTG drive lets you transfer, store and share files easily.
This pen drive is compatible with most OTG-enabled devices so you can transfer files to your smartphone, tablet, PC and even Mac computers.
Its sleek design makes it easy to connect to both micro-USB and USB 3.0 connectors.
With a high-speed of 150 MB/s, this pen drive can transfer files in a jiffy.
It helps you manage and backup files easily on your Android device.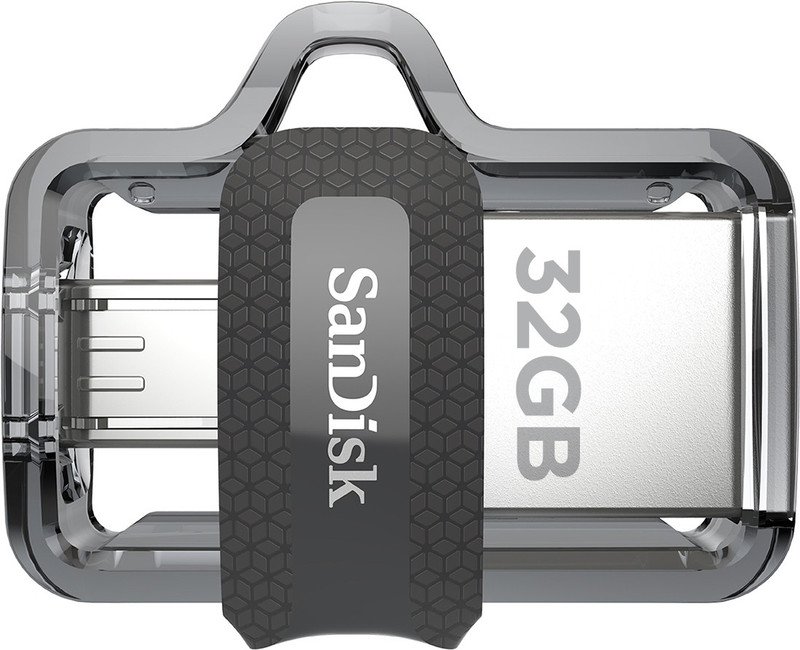 SanDisk Ultra Dual Drive M3.0 32 GB OTG Drive(Type A to Micro USB)
Buy Now
Flipkart
as of November 25, 2023 4:43 pm
Highlights
USB 3.0|32 GB
Plastic
For Mobile, Tablet, Laptop, Desktop Computer
Specifications
General
Sales Package
Pen Drive
Model Name
Ultra Dual Drive M3.0
Opening Mechanism
Retractable
Supported OS
Windows Vista, Windows 7, Windows 8, Windows 10, Mac OS X v10.6 and Higher
Weight
5.2 g
Other Dimensions
30.20 x 25.47 x 11.76 mm
Warranty
Warranty Summary
5 Years Warranty
When the journey seems to be too long, all you have to do is take out that SanDisk Ultra Dual USB Drive from your pocket, transfer that movie to your phone and enjoy the rest of the journey. Yes, this pendrive comes with a really high transfer speed that you will love. Compatible with most...