Stag Yoga Mantra Blue 6 mm Yoga, Gymnastic, Exercise & Gym Mat
This Stag Yoga Mat is here to help you comfortably practice the science of yoga, so that you can unfold the infinite potential of your body and mind through different moves and techniques of yoga. This yoga mat is manufactured from good-quality EVA material (Ethylene-vinyl Acetate) and is Durable, Lightweight, and Slip Resistant as well, making it suitable not just for yoga, but also pilates, meditation, and stretching exercises.
Slip Resistant – This yoga mat has a textured surface that helps provide a good grip. This allows your body to perform complex exercises or moves.
Sweat Absorbent – To eliminate the possibility of slipping (due to sweat) while exercising, this yoga mat has a sweat-absorbing property that lets you have a firm grip on the mat while working out.
Lightweight and Flexible – The density of this yoga mat is designed in such a way that it's lightweight, provides proper cushioning, doesn't crack due to folds, and can be laid out straight on the floor – without unnecessarily folding up.
EVA Material – Ethylene-vinyl Acetate (EVA) has properties that make this yoga mat resistant to stress cracks and UV radiations. This material is also odour-free, eco-friendly, and also provides low-temperature toughness.
Storage – This yoga mat comes with a bag that provides safe and smooth storage of the mat. This bag also has straps that you can use to easily carry it along with you to the gym.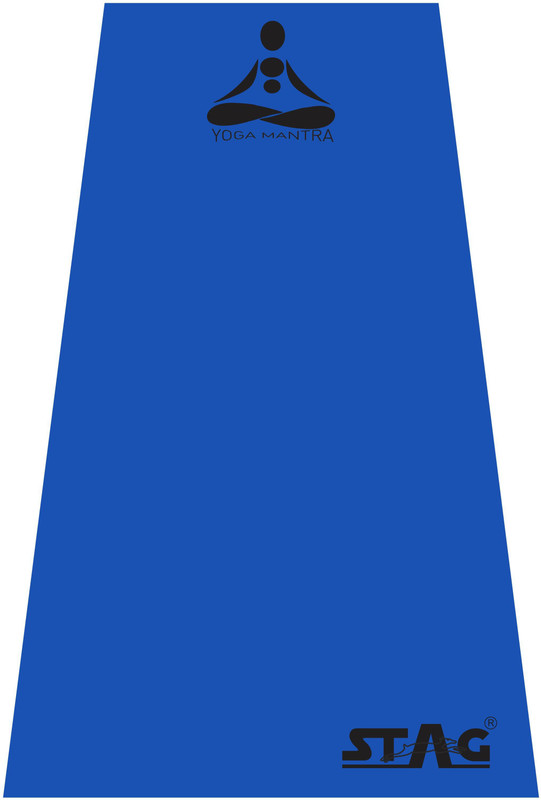 Stag Yoga Mantra Blue 6 mm Yoga, Gymnastic, Exercise & Gym Mat
Rs. 1,110
Rs.

980
in stock
Buy Now
Flipkart
as of November 24, 2023 9:46 am
Highlights
Type: Yoga, Gymnastic, Exercise & Gym
Width: 60 cm
Length: 180 cm
Slip Resistant
Specifications
General
Model Name
Yoga Mantra
Pack of
1
Designed For
Training, Home Use
Reversible
No
Suitable For
Indoor, Outdoor
Product Details
Ideal For
Men, Women
Sport Type
Fitness
Sales Package
1 Yoga Mat, 1 Bag
Dimensions
Width
60 cm
Height
180 cm
Thickness
6 mm
Wouldn't you want to practice yoga, pilates, meditation, etc., on a comfortable, durable, and clean surface? Well, this Stag Yoga Mat comes equipped with features, such as Slip Resistance, Sweat Absorbance, and is Lightweight and Flexible as well to ensure that you look forward to exercising regularly.