Nasofilters Nose Respirator Plug for Anti-Pollution
Nasofilters, is a respiratory nasal filter that sticks to your nose and prevents the entry of harmful air pollutants in your body.
Nasofilters is made to help people stay safe from air pollution that is affecting everyone. Developed by a team from IIT-Delhi, this breakthrough nano-technology protects from dust, air pollution, particulate matter, SMOG, pollens, and bacteria.
Nasofilters can be helpful to people who want to stay safe from pollution, allergies, asthmatics who suffer due to dust etc.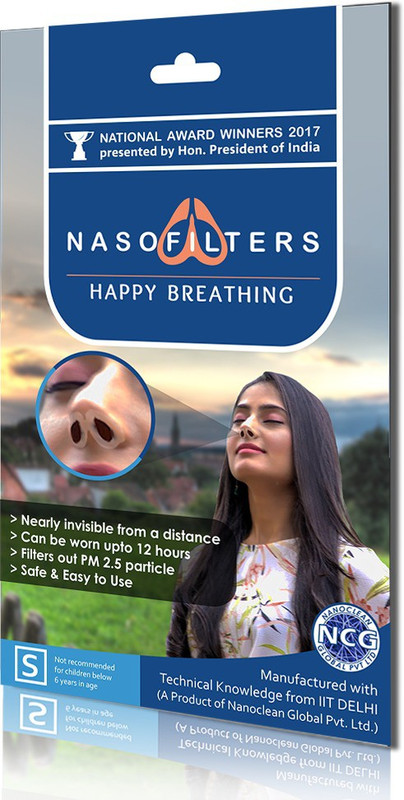 Nasofilters Pack Of 24 + 6 Compliemntary Pack Of 24 + 6 Compliemntary Mask and Respirator
Buy Now
Flipkart
as of September 28, 2023 12:53 am
Highlights
Type: Mask and Respirator
Half Mask
Suitable For: Pollution
Air-purifying Respirator
Nose Shaped Mount
Specifications
General
Brand
Nasofilters
Model Number
Pack Of 24 + 6 Compliemntary
Type
Mask and Respirator
Mask Type
Half Mask
Respirator Type
Air-purifying Respirator
Mounting Type
Nose Shaped
Suitable For
Pollution
Size
Small
Model Name
Pack Of 24 + 6 Compliemntary
Material
Nano Fibre
Color
Brown
Convenience Features
Replaceable Parts
No
Self-closing Valve
No