Perfect Homes by Flipkart Wayne Single Seater Fabric Recliner
This recliner's structure has been made from solid wood to to ensure its stability and sturdiness. Solid wood also ensures better movement of the recliner's mechanism.
Dirt-proof Microfiber Upholstery – This recliner has been upholstered with microfiber fabric which protects it from dirt and makes it easy to clean.
Built to Withstand 150+ kg – This recliner has undergone heavyweight load testing and is certified to withstand over 150 kg load.
6+ Years Durability – This recliner mechanism has been built to last. It can withstand more than 25000 open-and-close cycles, which guarantees the recliner a lifespan of more than 6 years.
Up to 180-degree Reclining Movement – This recliner allows you to lean up to 180 degrees for a comfortable and lazy nap.
Clima-cool Fabric – This recliner comes with high-quality microfiber as upholstery which keeps it cool even in warm weather.
3 Unique Sitting Modes – This recliner offers 3 different sitting settings for all kinds of relaxation moods. You can relax on this recliner in your own range of motion.
Pocket Spring with Extra Foam – Extra foam and a cushioned body make this recliner cozy and comfortable. The additional foam also adds to the look of the recliner.
Easy Push-pull Mechanism – You can change the reclining angle of this recliner by an easy and effortless push-pull mechanism.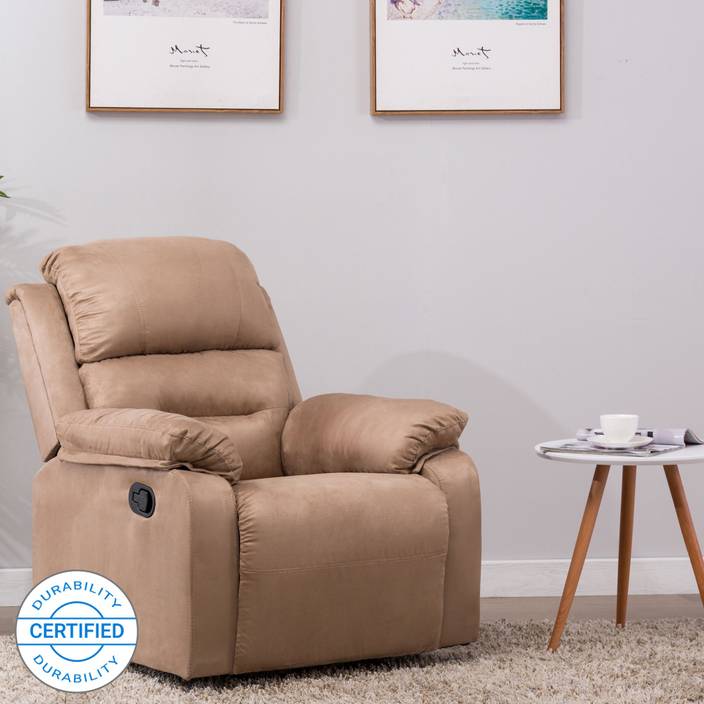 Last update was on: November 12, 2023 7:59 pm